Can I Have a Breast Reduction with Implants?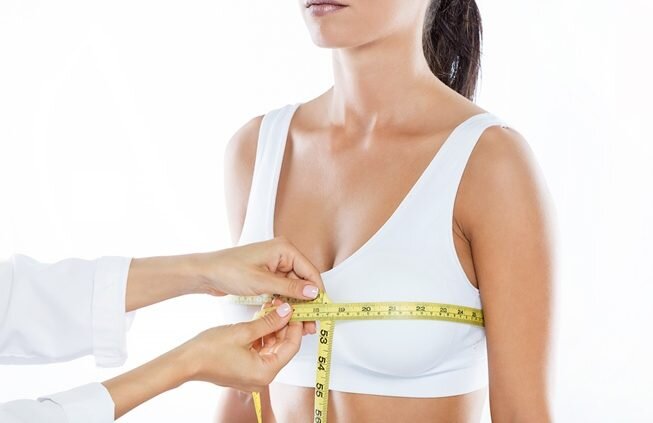 While many women that opt for breast implants are interested in increasing size, some women with large breasts may be looking to actually reduce the size of their breasts via breast reduction. However, this is also a great time to add breast implants to help achieve a more full and pleasing look if you're unhappy with your natural breasts. Whether you have breasts that are sagging or they're just heavy and uncomfortable, a breast reduction with implants can give you breasts that are more manageable as well as being fuller and more aesthetically pleasing.
Indeed, breast surgery isn't just for women that want bigger breasts — it's for any woman that wants to revisit the size, shape or fullness of their breasts, and it's often one of the best ways to make a breast reduction look more flattering and natural. Some women with larger chests may desire breast reduction surgery to help relieve back pain, to achieve better proportions or to help make their day to day activities easier, but it's also common to lift and reshape the breasts at the same time, which is often known as a breast reduction and lift or breast reduction with implants.
Why Breast Reduction?
Women with large breasts may opt for breast reduction surgery for a multitude of reasons. Some have chronic pain in the back, neck or shoulders from their large breasts, and reducing the size and weight can make everything from daily activities to new adventures much easier. Others may be looking to return to a more active lifestyle and trying to incorporate more physical activities into their lives that they are unable to do with the existing size of their breasts. In particular, athletics can be awkward if not impossible in some circumstances. Still others may desire to regain their confidence or improve posture and breathing.
What Is Breast Reduction Surgery?
A breast reduction is a surgical procedure where an incision is made around the nipple and down and under the breast, allowing for a reduction in volume, shape or lift, as well as nipple/areola reduction, if needed. Fat, skin and glandular tissue are removed during the breast reduction, which can result in fuller, shapelier and smaller breasts.
Most breast reductions involve removing a significant amount of breast tissue — often more than one cup size. While a breast reduction can certainly be done without implants by using the existing breast tissue to reshape and create a natural look, some women may get better results opting for a breast reduction with implants if there's not enough existing breast tissue to adequately shape the breasts during reduction surgery; that's when the fullness and volume of a breast implant can help.
As for recovery, both breast reductions with and without implants have the same recovery time.
A Breast Reduction With Implants: Separate or Together?
Each breast reduction is unique and tailored to the patient herself, taking into account aesthetics and the desire of the patient. A breast reduction with implants is typically all done at once, though some patients may elect to revisit with implants after the breast reduction itself.
However, it's often easier and better to do a breast reduction and implants at the same time to avoid multiple surgeries and to reduce the overall healing time. That said, it's certainly possible to do a breast reduction without implants if the patient so desires. Even still, a patient can always decide to revisit with a breast augmentation in the future.
When in doubt, discuss your concerns with your surgeon so that you can receive the best treatment for your needs and goals. In some circumstances it may be ideal to delay the implant until after the breast reduction, but this is largely determined on a case by case basis. Splitting up implants and a breast reduction can help give you additional time to determine if implants are right for you, though it does require two separate surgeries and healing time.
Additionally, some breast reduction patients may opt for breast implants down the line due to weight loss following their breast reduction, which can help to restore fullness and proportion. Generally, it can help to achieve a stable weight before considering breast augmentation, but it may be the case that a breast reduction enables you to increase your activity levels, thereby encouraging more weight loss.
What Happens During a Breast Reduction With Implants?
Even if a breast reduction is being performed with implants, each procedure has their own specific considerations so they can be thought of as two separate procedures. In a breast reduction, skin, tissue and fat is removed from the breast. A breast implant, on the other hand, adds more volume and weight, which increases fullness.
In a sense they're both opposites of one another, though it's common to have areas that need a little extra fullness after a breast reduction. That's why both procedures are often performed together, which is also known as a one-stage procedure. If it is determined that you would benefit more from a separate breast reduction without implants, you will be advised so by your surgeon. After all, the goal is to keep your breasts looking as natural and full as possible, and sometimes that's best done with implants, a lift or by doing nothing beyond the actual breast reduction itself.
Note that if you or your doctor suggest separating out the two, it's often best to leave about 9-12 months between operations to allow the scars to fully heal before the second operation takes place.
When Are Implants Not Suggested?
Women with very large breasts that want a reduction along with a lift may not be good candidates for breast implants. That's because the large implants that would be needed to give fullness can often end up sagging more than the natural breast tissue, leading to additional issues over time, as well as potentially not looking full, proportionate or flattering. In instances where a patient has a D cup or larger after the reduction, we may suggest not opting for a breast implant.
Schedule Your Breast Reduction With Implants Today
If you're ready to do something about those large breasts, a breast reduction with implants can give you a more manageable and flattering chest in one quick surgical visit. Contact the experts at Quinn Plastic Surgery & Aesthetic Center to learn more and schedule a consultation today!