Dermal Fillers and Injectables for Beginners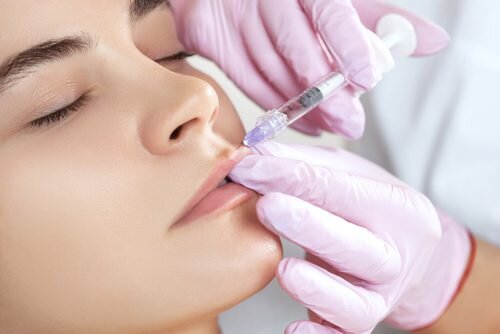 What are dermal fillers? Dermal fillers are injectable gels and gel-like substances that add volume, remove wrinkles and fine lines, treat lines around the mouth and lips including smile lines, adding contour to the cheekbones and brows, and smooth the skin of the face–and much more. Injectables are commonly used on the lips, but can also be used on other parts of the body, including the neck, chest, hands and other places.
In this article we hope to take you from a dermal filler novice to someone who is fully confident in the use and application of dermal fillers.
What Can Injectables and Fillers Do For You?
Dermal fillers, also known as injectables, are used by cosmetic facial surgeons to minimize the signs of aging by adding volume to parts of the face that may have skin depressions, and to fill out skin to remove fine lines and wrinkles. They can be used in hollow areas under the eyes, to add volume to cheekbones, brows and chins, to reduce the visibility of scars, and to increase the plumpness of the lips.
Injectables and fillers can be used for other parts of the body as well, including in the neck, the chest, the hands, and even the butt and legs.
How Long Does it Take To See Results (and How Long Do the Results Last?)
Results of fillers and injectables are seen immediately after they are injected, but there is additional swelling and it may take one to two weeks to get a clear picture of what you'll look like post-injection.
Usually, when the injectable is initially put in, you'll get a glimpse of yourself in the mirror before the swelling begins, so you'll know what the eventual outcome will be. But during that 7 to 14 days, don't worry that it's not exactly what you expected. Your body will adjust.
Depending on the person, one injectable may be enough to reach the desired results while other patients will want more than one injection.
As for how long the dermal filler will last, that depends a lot on the type of filler you're using. Some dermal fillers and injectables will last up to six to twelve months, while others can last for three to five years.
Discuss with your clinician which dermal filler you'll be using and what they think the best option for you is. Sometimes different patients react differently to different types of filler. Also, the first time you get a dermal filler you may not want one that lasts longer than six to twelve months because you want to see how you like it.
Where Do I Start with Injectables?
Some people start using dermal fillers in their 20s, not because of aging but because of genetics: dermal fillers and injectables can add volume to areas of the face where you wish you had it, such as the cheekbones, the brows or the lips. Also, some younger people use dermal fillers for the treatment of scars.
As you get older, in your 30s and 40s, dermal fillers might not be used to repair fine lines and wrinkles but to prevent them. Getting started with dermal fillers before your skin begins to wrinkle and sag could slow the aging process of the skin, so that as you age the dermal fillers are not doing all the heavy lifting.
Of course, many people in their 50s and older want to use dermal fillers as a way to decrease wrinkles and lines. At this age the body produces less collagen and elastin which keeps skin firm. Dermal fillers could be just the solution you're looking for to reverse the signs of aging.
How Much Do Filler Injections Cost?
According to statistics from the American Society of Plastic Surgeons, the price of the dermal fillers themselves (not including the physician visit and the cost of the procedure) can vary between $600 to $1100 per syringe. Bear in mind that these are national averages and that the cost of your treatment could vary depending on your area, your age, the placement of the injection, and other services that the clinician provides with the dermal fillers.
Health insurance generally doesn'tcover dermal fillers, except in rare cases of scarring or other exceptions. And, when you consider that dermal fillers and injectables" effect can last more than a year and up to five years, it's a relatively small monthly cost.
Which is Better: Botox or Juvederm?
Both Botox and Juverderm will treat fine lines and wrinkles, as well as adding volume to the face. However, there are some differences between these injectables.
Juvederm is made of a gel containing hyaluronic acid which fills in the wrinkles from underneath. There are many different types of Juvederm available, including products like Juvederm Ultra XC, Juvederm Volbella XC, Juvederm Voluma XC and more. You and your clinician can discuss which is right for you.
Botox, on the other hand, is made from a type of neurotoxin, botulinum toxin A, and while it is completely safe it works on your face in a different way, relaxing the muscles in your face.
So while Juvederm works by filling in the wrinkle lines with gel that plumps up the skin and reduces lines, Botox relaxes the muscles to reduce lines.
The decision to use Botox or Juvederm (or another injectable–there are a handful more) is a conversation that you're going to want to have with your clinician.
Conclusion
Getting dermal fillers and injectables is a great way to reduce the signs of aging as well as to alter the contours of the face, and it's a treatment that is safe and effective for a long period. Talk with a clinician at Quinn Plastic Surgery & Aesthetic Center for more information about what's the right dermal filler for you.