Gift Ideas for Father's Day from Quinn Plastic Surgery & Aesthetic Center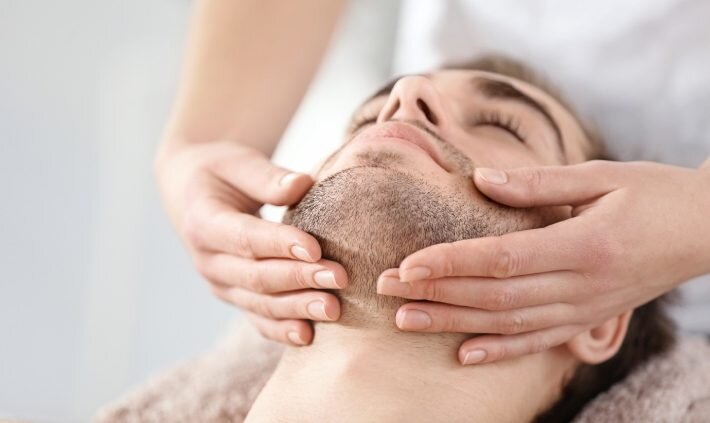 Everyone wants to find the perfect Father's Day gift for dad, but it's so easy to get him something bland and same-old-same-old. A tie. A golf club. Doesn't your dad deserve so much more?
What else can you get your dad on this special day that tells him that not only do you think he is deserving of a great gift, but that you value him as a person, body and soul?
Dad's need a lot of things to be fulfilled, but one of the most important ones is confidence and feeling good about themselves. Unfortunately, too many long days at the office, eating takeout lunches or not having time to get to the gym as often as they should can leave your dad not feeling his best.
We don't want him to feel that way, and we know you don't want him to feel that way. So what can you do to make your dad feel good about himself?
Aesthetic Procedures for Men
The skin treatments for men that Quinn Aesthetic Center offer are non-invasive or minimally invasive, and they can completely turn your dad into a new person. Don't think that all plastic surgery is nose jobs and surgical procedures.
There's an awful lot of men's skin treatments that can enhance a man's good looks and charisma–and elevate his self-confidence.
Facials
One of the first places, and safest places to start if you're looking at cosmetic surgery for men is not surgery at all, but merely an aesthetic procedure. It helps with sun damage, using skin care products that he might not pick up for himself. It can reduce age spots and acne scarring.
A facial consists of:
Cleansing the skin
Exfoliating to get rid of excess dead skin and smooth the skin
Extractions of blackheads and pimples,
Facial massage, which will revive the skin and give a more youthful appearance
The use of skin care products like a mask, moisturizer, and sunscreen to keep the skin healthy
Anti-Aging Facial
For the dad who still wants to keep his good looks, the anti-aging facial is a 75 minute skin care routine that includes all of the stuff we mentioned above for the facial, plus there is a collagen or hydrating mask for mature skin, which helps with fine lines.
We offer a wide variety of high-end medical-grade products which reduce wrinkles, improve tone, and help with skin texture. Great for anyone over the age of 40, but really any dad can benefit from it.
Hair Removal
Another great Father's Day gift for the dad in your life is laser hair removal. While women get laser hair removal on their legs, underarms and face, men most often get laser hair removal on their chest, back and shoulders. We all know that dads can get a little… rugged. But for many of them, they'reas self-conscious about their back hair as a woman is about her mustache.
Again, this is a totally non-invasive procedure that doesn't require so much as a needle prick. An easy gift for dad.
Botox
Maybe dad is getting a little more concerned about those crows feet and fine lines and wrinkles. There's nothing wrong with this. Men are just as desirous to look young as women are, even if your gruff dad may not ask for it. The gift of a Botox session for Father's Day will be a welcome way for your dad to stave off the effects of aging.
Botox injections are mainly used for crow's feet, forehead lines, frown lines, and smile lines. (We'll let you decide whether your dad has more frown lines or smile lines.) The Botox treatment is fast.
He'll be in and out of the chair in 15 to 20 minutes, and there's no recovery period. It's an easy enough treatment that dad can get it on his lunch break at work, or on a lazy afternoon. The results take a few short days to fully take effect, but your dad will be thrilled with the result.
Chemical Peel
This one might sound a little intimidating to a dad who has never had med spa procedures done before, but a chemical peel is one of the oldest skin treatment techniques that exist in history. Tell your dad about how it was practiced in Ancient Egypt, Greece and Rome (and be prepared to hear a little bit from him about the Roman Army and their battle with the Carthaginians) and you'll have convinced him that a chemical peel might be a good idea.
The chemical peel is non-invasive and removes damaged layers of skin. It uses an acidic solution which removes the outer layer of cells and stimulates the growth of new ones. Generally, a chemical peel will take place in three treatments.
A chemical peel will help no matter your skin type, but help treat rough or dry skin. It can help with wrinkles, and hides the appearance of scars, especially acne scars. It will reduce the appearance of age spots. And it will generally reinvigorate the entire health of the skin.
Conclusion
Whatever skin care solution you choose as a Father's Day gift for dad, you can know that we'll take good care of him here at Quinn Aesthetic Center. With a highly skilled team of board certified nurse injectors, nurse practitioners and licensed aestheticians, we will give him the royal treatment. Treatment fit for a dad.