Plastic Surgery Best Suited for Men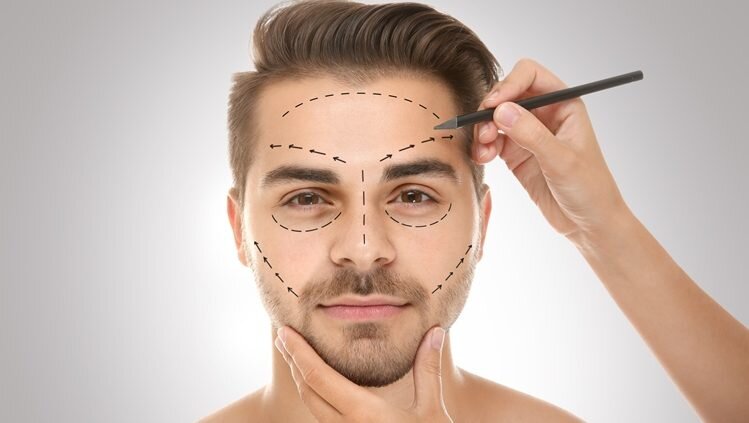 While women are still much more likely to get cosmetic procedures done to help improve their appearance, plastic surgery for men is a quickly growing field that is showing the importance of appearance in the workplace and social settings. Today, men are just as likely to have nagging questions about how they may be able to improve their appearance — and many men are deciding to do something about it!
After all, our society has placed a premium on looks, and with so many women electing to undergo aesthetic procedures to improve their appearance, most men are just now opening up to the possibilities of plastic surgery in an effort to keep up. Whether age has started to take its toll or you have a nagging issue that you've always wished you could do something about, plastic surgery for men gives countless opportunities to rejuvenate and refresh your look.
Here are some of the most common types of men's plastic surgery.
Eyelid Surgery
For many people, the eyes are the window to the soul. But if you have loose, hanging skin that is obscuring the look of your eyes, that can start to work against you in professional and social settings. Additionally, bulging fat under the eyes can leave you looking tired and overwhelmed even when you feel great, making it an ideal treatment for aging men that want a more youthful and rejuvenated appearance. 
The good news is that eyelid surgery is a quick procedure that can restore the upper eyelids to an ideal appearance, as well as minimizing eyelid droop. Below the eyes, the lower lids can be corrected by removing excess fat and repositioning tissue to the cheeks where they can enhance your appearance. Done alone or with skin and muscle tightening, it can give you a look that's more fresh and vibrant, helping you to more effectively convey yourself in all sorts of social situations.
Neck Lift
Another common plastic surgery procedure for men takes care of that hanging "turkey neck." While for many men this is an aesthetic concern, an issue with excess fat around the neck can make it more difficult to find shirts that fit or to wear a tie at work, potentially complicating your employment. It can also make you look much heavier if all that excess fat is concentrated in areas around your face. 
The solution in these instances is a neck lift, which can give you a strong jaw line with that crucial separation between your neck and your face. After such a procedure, you'll have a more youthful look that more closely matches your real age, and that can be a huge benefit at home or in the office. Most neck lifts are very predictable and is often an outpatient procedure with little pain and a quick, two-week recovery time.
Rhinoplasty
Flattering proportions can make a huge difference. And this is no more apparent than with rhinoplasty, which is a leading plastic surgery procedure for men of all ages. A too-large or disproportionate nose can throw the rest of your face out of whack, further exacerbating other problems that would be rather minimal on their own. Indeed, shaping or reducing the size of your nose without introducing excess femininity can have the power to completely transform your face even if people can't quite put their finger on what has been done.
That said, sometimes a rhinoplasty is best augmented with a chin augmentation to really revitalize and rejuvenate your look. In many instances, you'll often be able to return to your normal life in about a week.
Chin Augmentation
Commonly performed alongside other men's facial plastic surgery procedures to give the best before and after change, chin augmentation is all about the proportions of your face. A lackluster jaw can make your nose or eyes seem worse than they actually are, as well as potentially reaffirming more feminine traits. But with the right approach and a skilled surgeon at the helm, chin augmentation is a great plastic surgery procedure for men that want a more refined and masculine look.
Chin augmentation is often combined with liposuction of the jaw line or rhinoplasty.
Liposuction
Long used by women to subtly sculpt and contour their bodies into an ideal form and shape, liposuction is increasingly being used by men to signal their health and vitality to others. From turning that dad bod into something more slim and fitting to putting those finishing touches after diet and exercise, liposuction can improve your appearance in many ways. 
Not only can the tricky abdominal area be shaped and contoured — say goodbye to that spare tire! — but liposuction is one of those plastic surgery procedures for men that can help trim the fat back to your sleeker frame. In general, patients can return to work in just a day or two, though final results will take shape after six to eight weeks.
Gynecomastia
For men that have excess skin around the breast area, it can be an uncomfortable situation as their chests may start to take on more feminine traits as opposed to a sleek and masculine chest. If diet and exercise aren't enough or you'd rather deal with the issue once and for all, a gynecomastia can help reduce the appearance of excess skin around the breast with liposuction and the excision of any sub-areolar excess elements. 
Those who seek out this type of plastic surgery for men typically fall into one of two groups: teenage boys and men in their late 40s and 50s that may be losing tone in their chest area. Of all the men's cosmetic surgery treatments, the before and after is most dramatic with gynecomastia since the treatment area is not visible under clothing. But even with a shirt off, many men report significant improvement in their look.
Plastic Surgery for Men
If you're ready to start doing something about your look, plastic surgery for men is more widely accepted and common than you may think. Men that you'd never assume have had plastic surgery are going under the knife in increasing numbers, and it's true that much of the disapproval of such procedures have largely fallen by the wayside.
If you'd like to make a difference in your appearance with plastic surgery for men, contact the experts at Quinn Plastic Surgery & Aesthetic Center. We're located conveniently in Leawood, Kanasas and serve the Kansas City and Overland Park areas with various plastic surgery treatments designed to serve the specific needs of men. Contact us today to get started.