Plastic Surgery Tourism Has Real Risks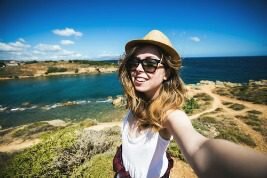 We're always looking for ways to pay less for the things we want. Whether it's a new couch, a new car, or even plastic surgery, finding a "bargain" can feel great. The problem is, when you're dealing with medical and surgical procedures, you are putting your body — and possibly your life — at risk.
Combining Surgery With Vacation
In recent years, some people have opted to get plastic surgery done in other countries, often combining it with a vacation-like trip – a practice known as medical tourism. At first glance, it sounds like a great deal. You can relax and enjoy a vacation, and get a new look while you're there. Although there are credible physicians and health care facilities in other countries, there are also many other people who are not properly trained in medicine, or who simply don't make patient safety their priority. The trouble is, when you're dealing with non-U.S. physicians, it can be difficult to know who is qualified, and who isn't.
Remember that plastic surgery is real surgery, and its success relies heavily upon the skill and care of your surgeon, as well as the cleanliness of the facility. If your surgeon isn't properly trained in the procedure, or doesn't follow certain standards of care, you could end up with a botched surgery or serious complications.
Keep the following things in mind before you consider any procedure in another country:
Not all practitioners or their medical devices meet the strict standards followed in the U.S. Board-certified plastic surgeons must undergo years of training, and are held to stringent standards. This ensures that you will get the safest possible procedure and high quality results. Although the physician might seem to be knowledgeable, if they aren't board-certified in plastic surgery, you should move on. To find a board-certified plastic surgeon in the U.S. or around the world, visit the American Society of Plastic Surgeons website.
These vacations don't always take into consideration the time you need before the procedure for a consultation, as well as adequate recovery time after. You should have a detailed discussion with your surgeon before deciding on any plastic surgery. At that time, any risks and surgery preparation instructions should be covered. In addition, many procedures require several weeks of recovery and careful follow-up visits with your surgeon to ensure you are healing properly. Without these follow-up visits, you could risk getting an infection or other health problem — which would normally be addressed in a proper follow-up visit.
Bottom line: before deciding on any plastic surgery, you should know who's doing the surgery, and whether they are qualified to do it. Make sure you ask any surgeon the following questions before deciding to go forward with surgery:
Are you board-certified in plastic surgery?
What are the risks, and am I a good candidate for this type of surgery?
What is involved before, during, and after the surgery? How much recovery time do I need?
Where will the surgery be performed? (If the surgeon is board-certified, it should be an accredited facility)
Are you interested in learning more about ways to enhance your confidence and overall appearance with a board-certified, experienced plastic surgeon? Call Quinn Plastic Surgery & Aesthetic Center today at (913) 492-3443 to schedule a consultation and achieve beautiful results with cosmetic surgery.