Post Pregnancy Tightening Up the Belly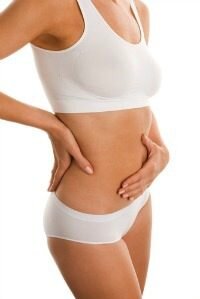 Pregnancy brings with it many rewards — the joy over a new life, planning for the future, and those first few sweet months of bonding and cuddling with your new little bundle of love. However, pregnancy takes a toll on the body, and despite all of the joys and thrills, some of the effects of pregnancy aren't reversible on their own. Excess skin, uneven fat deposits, separated abdominal muscles and other factors may lead to discomfort and stress no matter how much you exercise or diet trying to get your pre-pregnancy body back. For many women, a tummy tuck and liposuction performed together as a combined procedure is the solution.
Changes Due To Pregnancy
Pregnancy packs a lot of body changes into a short period of time. Between the nine months of pregnancy and the few months afterward as the body recovers, the body goes through weight gain, resulting in loss of elasticity of the skin, changes in the size of the feet, changes in hair behavior, and more. While nothing can be done about some of these changes, others may be treated with a tummy tuck and / or liposuction.
During pregnancy, the body stores extra fat to help nourish both mother and baby and provide for a variety of vital needs. The skin across the abdomen becomes stretched as the muscles are stressed, often resulting in a separation of the abdominal wall muscles. The breasts also go through changes in both size and shape due in part to weight gain, but also due to hormonal changes. While changes to the feet or hair aren't reversible, some of the damage done due to pregnancy weight gain are reversible.
Unfortunately, post-pregnancy diet and exercise will only go so far in terms of undoing pregnancy weight gain. The changes are primarily cosmetic only and do not interfere with vital functions. However, changes that don't respond to diet and exercise may cause physical discomfort and emotional stress. Diet and exercise will aid in weight loss, but you may be left with excess, loose skin and weakened or separated abdominal muscles.
Benefits Of A Tummy Tuck And Liposuction
While a tummy tuck and liposuction might each have benefits when performed alone, they aren't interchangeable procedures. Each offers its own set of benefits.
Liposuction: Liposuction is ideal for sculpting and fine tuning the abdomen and waist, but it can't tighten excess or loose skin and it can't repair damaged abdominal muscles.
Tummy tuck: A tummy tuck is best suited to tightening and removing excess skin and repairing damaged muscles. A tummy tuck may also be able to remove some portions of skin that bear stretch marks. However, a tummy tuck is not a procedure for fine-tuning and sculpting.
The Benefits Of Combining A Tummy Tuck And Liposuction
Combining a tummy tuck with liposuction offers more benefit than one. First, it is simply more convenient to combine two compatible procedures to save time spent on surgery and recovery. Second, undergoing surgery once reduces the risks that would be associated with two separate procedures. Third, by combining both procedures, your surgeon will be able to make more precision adjustments during both portions to provide complementary results.
To learn more about your post-pregnancy tummy tuck and liposuction options, call Quinn Plastic Surgery & Aesthetic Center today at (913) 492-3443 to schedule a consultation. We look forward to meeting you!