Reduce Plastic Surgery Complications By Avoiding Medical Tourism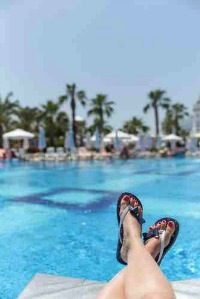 Imagine warm, sunny beaches, sparkling water, and putting your feet up by the pool. What a way to spend your vacation! Now, imagine the same scene, but after plastic surgery when you are sore, tired, and wearing compression bandages, trying to relax and heal. To some, this might seem like a great way to recover from plastic surgery, and tourism companies are banking on the desire to combine plastic surgery, vacations, and rock bottom prices as a way to make money by swaying tourists into taking risks with their health. Before you ask, "Where can I sign up?" read on to learn about the realities of plastic surgery and medical tourism and the associated dangers and complications.
Plastic Surgery Abroad Versus At Home
When seeking plastic surgery in the United States, you should expect a certain level of training, professionalism, and standards in place to protect your safety. The American Society of Plastic Surgeons (ASPS), for example, requires its members to adhere to a high level of training, ethics, and personal practices in the field of plastic surgery. Members are expected to be advocates for the safety and well-being of their patients, providing services only in accredited surgical facilities. In addition support staff must also meet certain training and certification standards.
When considering plastic surgery overseas, it is difficult if not impossible to verify the training and credentials of the surgeon or facilities. In fact, many countries where plastic surgery tourism is offered have no governing organization or national standards for facilities, meaning there is no guarantee that facilities are sterile or that surgeons and staff are trained in proper technique. Overseas facilities are also less likely to have modern tools and equipment, putting patients at much greater risk of infection and other complications. Products such as breast implants also may not have undergone the rigorous testing required in the United States, possibly resulting in substandard materials being used.
The Keys To A Safe Recovery
A safe, smooth recovery from plastic surgery depends on many factors, not least of which is the ability to relax and rest. While combining surgery with vacation may seem like just that — restful and relaxing — many vacation packages include activities that are contraindicated during recovery. That is, such packages include activities that may actually do more harm than good during your plastic surgery recovery.
While it may be tempting to lay out on a beach, soak up the sun, or take a dip in the soothing water of a pool or hot tub, such activities don't aid healing and may increase risk of post-surgical infections. Additionally, the walking activity of a tour, even sitting on a bus for a tour, aren't as restful or easy as they may seem and may cause unnecessary exhaustion to your already tired body. Activities such as snorkeling, water skiing, jet skiing, or parasailing may cause serious complications requiring additional surgery.
Top such activities off with the potential for limited after-care or access to services abroad, and the outlook may be quite grim. Rather than treating plastic surgery as a tourist activity around which a vacation may be planned, it is important to remember that plastic surgery is real surgery that carries both risks and benefits.
The Risks Of Traveling After Surgery
In addition to increased risk of infection and other complications, plastic surgery tourism also carries a significant risk of complications related to travel after surgery. The maximum amount of travel that should be experienced in the first week or two after surgery should be the distance from your surgeon's office to home and back. When it comes to travel after plastic surgery tourism, flying is exceptionally risky as the body is attempting to heal from surgery. Thus, the risk of developing a blood clot in the lungs or extremities (often the legs) increases dramatically. A clot developing in the lungs (pulmonary embolism) or extremities (deep vein thrombosis or DVT) increases during a long flight or other travel in general, but is significantly more likely after surgery and may be life-threatening.
Before planning any plastic surgery, be sure to schedule a consultation and learn about your chosen procedure, the benefits and risks, and the recovery process, ideally choosing a surgeon that is able to provide you with a complete experience from consultation through surgery and all the way through recovery. A great place to start is close to home at Quinn Plastic Surgery & Aesthetic Center. Call us today at (913) 492-3443 to schedule your consultation.